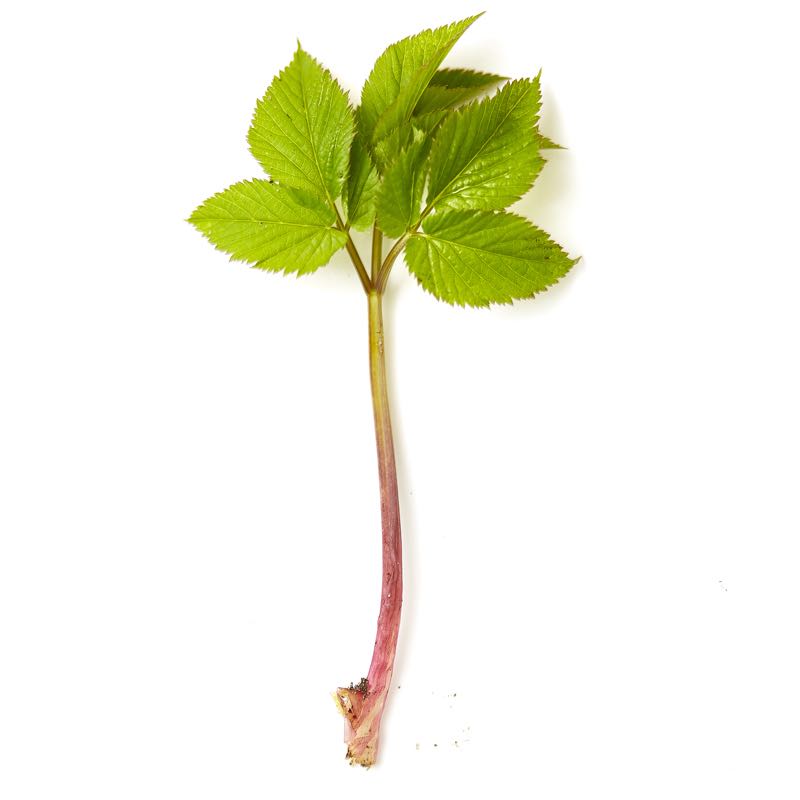 Ground elder
Ground elder was originally brought to Denmark by monks who thought it was a wonderful spice. Since then, it has spread invasively and become the gardener's number one enemy.
Where to Find It

Ground elder grows in lightly shaded areas with moist soil, where its roots spread rapidly underground. It can grow anywhere that has nutrients in the soil: near dwellings, parks, deciduous forests, ditches, and hedges. As any gardener can tell you, once ground elder gains a foothold, it's almost impossible to remove.

Salt marshes, streams, lakes, deciduous forests, coniferous forests, towns, hedges, roadsides, grasslands.

When to Find It

You can pick ground elder from the end of March to May, but if you cut it back and allow it to regrow, it will still be available in November.

Shoots, leaves, flowers, and seeds: March, April, May, June, July, August, September, October, November.

How to Spot It

Ground elder can grow to 40-50 cm, and has tapered, serrated leaves that sit closely together like those on a clover. When it flowers, the plant sends up a meter-long shoot that forms small, white blossoms in umbels or half-dome shapes. The plants grow closely together—so closely that they stifle all other vegetation.

How to Pick It

It's best to pick ground elder right before the leaves unfold, while the plant is still young and bright green. During this time the entire plant can be used. The leaves taste best when they are still smooth and shiny on the surface. Once they have unfolded and turned dark green and matte, they are rough and have the consistency of cardboard. These large leaves are edible, but will need to be chopped or puréed well before using.
On the palate

Ground elder tastes like flat-leaf parsley and celery and it has a particularly aromatic, nutty note of carrot at the end. It can have a mildly acidic and bitter aftertaste like that of grapefruit. The flowers taste milder than the rest of the plant. The young plants are crisp like salad greens, but they tickle the tongue and the roof of the mouth. The older plants are tough and fibrous.

Aroma

Ground elder has the spiced scent of pepper and carrot peel.
Preparation

You can serve young ground elder raw or cook it briefly. When cooked, it loses some of its fresh aroma, but its mild, nutty flavor will stand out. You can simmer, sauté, and grill ground elder, or bake it in bread. Younger plants will disintegrate if cooked too long, older ones can take the heat but should be chopped and strained to break down their stringy fibers. The flowers should not be cooked, but can be used as a fresh herb.

Uses

Ground elder has a flavor profile similar to carrot, celery root, and leek, and thus can be used in many of the same recipes. It can also be used like like flat-leaf parsley to add freshness. It is especially good with potatoes, chickpeas, and pasta, and goes well in creamy stews and potato leek soup. You can blanch or lightly steam the stems of the medium-sized plants and treat them like green beans or asparagus. The flowers make a flavorful topping for many dishes.

Storage

Cover the ground elder with a moist cloth and store in a sealed bag or airtight container inside the crisper drawer of your refrigerator, where it will stay fresh for up to two weeks.

Substitutions

No equivalent substitutions.
Risk of misidentifying the plant
There is no risk of mistaking the plant for another dangerous or undesirable plant.