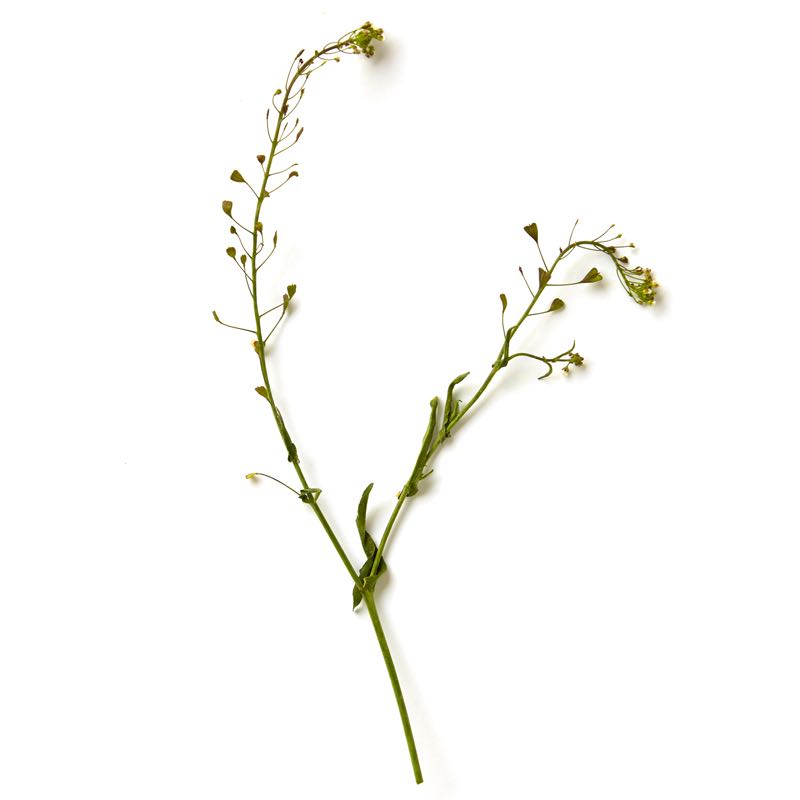 Shepherd's purse
Shepherd's purse is a common plant that is used as an ingredient in Asian countries like Korea, Japan, and China. Tasty as a leafy green, it can be incorporated into many dishes in place of cabbage.
Where to Find It

Shepherd's purse is a hardy herb that can thrive in many types of soil. It grows in open landscapes and can often be found at the edge of woods, on roadsides, and in overgrown gardens. It often pops up in places where the ground has been disturbed by digging or similar work, and sometimes it grows close together in clusters.

Towns, hedges, roadsides, grasslands.

When to Find It

You can normally pick shepherd's purse from April until November, but if temperatures are mild, you'll find it year round.

Entire plant: April, May, June, July, August, September, October, November.

How to Spot It

Shepherd's purse can grow to be 20-40 cm tall. At its base is a bunch of lightly haired leaves that look like dandelion leaves, but with more teeth. The stem is thin. Arrow-shaped, lightly haired leaves grow at the bottom. Further up the stem are small, flat, heart-shaped seeds (siliques), with tiny, white flowers at the top. You can pick out shepherd's purse by its characteristic, heart-shaped seeds.

How to Pick It

Both the leaves and seeds of shepherd's purse are useful, but if you only want to gather the seeds, run your hand up along the stem to strip them off. The easiest way to collect the leaves is to pull up the entire plant by its root. This way you'll keep all of the leaves together, and the root will help maintain the leaves' succulence.
On the palate

The leaves of shepherd's purse taste faintly of cabbage, spice, and mustard. The stems are crisp, and the seeds, which taste strongly of mustard, pop in your mouth.

Aroma

Shepherd's purse has no particular scent.
Preparation

Shepherd's purse leaves take well to stirfrying, blanching, and boiling, though they shouldn't be cooked too long if you want to preserve their shape. They're also good raw, and can be used in salads and as garnish. The seeds lose a bit of their flavor if they're on the heat for too long, but can also be cooked. They can be used as a substitute for mustard seeds.

Uses

You can use the leaves of shepherd's purse like you would a spicy cabbage. Their mild flavor makes them useful in many dishes, epecially paired with strong flavors like soy sauce or ginger. Experiment with them in different Asian dishes. They're good raw in simple salads, where their flavor will have a chance to stand out. Little nuggets packed with mustard flavor, the seeds can cut through richness or strong flavors in a variety of recipes.

Storage

Cover the shepherd's purse with a moist cloth and store in a sealed bag or airtight container inside the crisper drawer of your refrigerator, where it will stay fresh for up to one week.

Substitutions

Other sharp-tasting herbs such as common scurvygrass, hairy bittercress, and watercress can be substituted for shepherd's purse.
Risk of misidentifying the plant
There is no risk of mistaking the plant for another dangerous or undesirable plant.
Ingredient used in
Alternative ingredient in