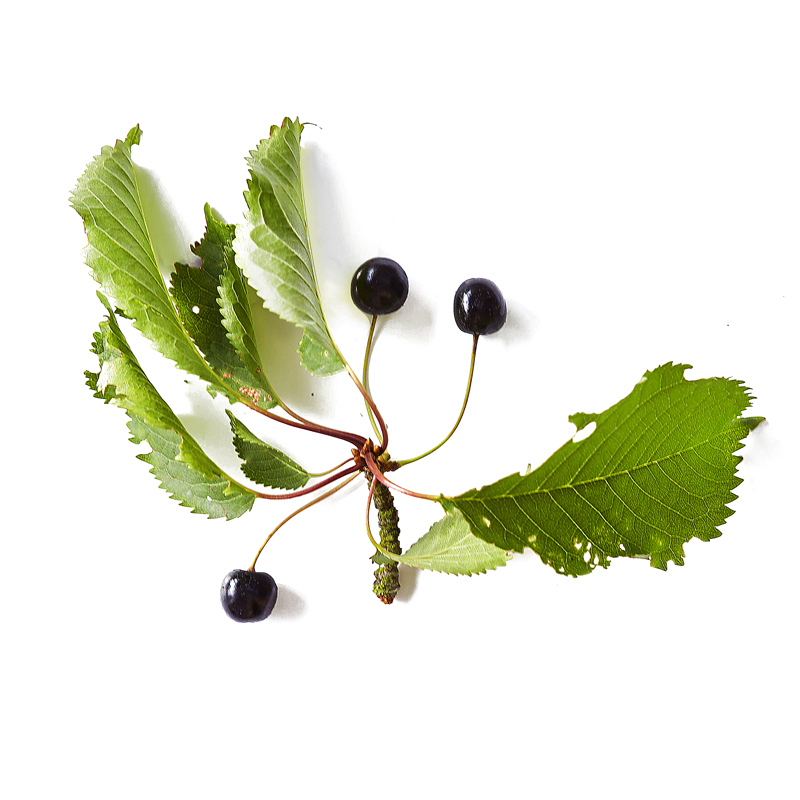 Wild cherry
The wood from wild cherry trees is coveted in furniture making because it resembles mahogany. The fruit, however, is often overlooked, though it offers flavors far more nuanced than those available in grocery store cherries.
Where to Find It

If wild cherry trees are exposed to too much wind, they'll bear less fruit, so look for them in places where the wind is kept at bay, like the sheltered side of a hedge, or on a woodland edge where they grow with other hardwood trees (especially beeches). The farther west you go, the more difficult it is to find wild cherries. Many grow on Bornholm, where they thrive in the warm, dry soil packed with nutrients.

Deciduous forests, towns, hedges.


When to Find It

Wild cherry trees bloom in May, and the berries are normally ripe from July until August.

Berries: July, August.


How to Spot It

Look for a tall tree—20 meters isn't unusual—with a straight trunk and branches that grow in rings up along the trunk. The bark is reddish-brown with distinct, cork-like bands around the trunk. The serrated leaves are bright green on top, and lighter underneath. The long-stemmed white flowers and buds grow in bunches, while the cherries, which can be yellow, red, or black, also also grow on long, neat stems. Wild cherries are slightly smaller than the hard, inflated cherries you buy at the supermarket.

How to Pick It

Pick ripe berries by hand.
On the palate

Wild cherries taste faintly of licorice and marzipan, with sweet notes of flowers and honey, but they also have an elegant tartness. A soft, juicy, and slightly fiery berry that will turn to mush more easily than store-bought cherries, they also have a larger seed and less flesh.

Aroma

Wild cherries have a sweet, delicate scent.
Preparation

Remove the stone before cooking, using a cherry pitter if needed. Wild cherries can be dried or poached, and can even handle intense cooking.

Uses

Wild cherries are delicious in marmalade, syrup, or dessert sauces—especially in risalamande, where the preserved wild cherries top off the dish. You can also try flavoring a cherry marmalade with licorice, honey, or vanilla. Both the leaves and the wood are excellent to use for smoking, either in a smoker or a kettle grill.

Storage

Store wild cherries in a sealed bag or an airtight container inside the crisper drawer of your refrigerator, where it will stay fresh for up to ten days.

Substitutions

No equivalent substitutions.
Risk of misidentifying the plant
Wild cherry trees can be confused with a lower-growing tree called the sour cherry, which isn't dangerous, but doesn't have the same tasty qualities. Sour cherry leaves have a few large teeth, while the wild cherry tree's leaves are more finely toothed.
Ingredient used in
Alternative ingredient in