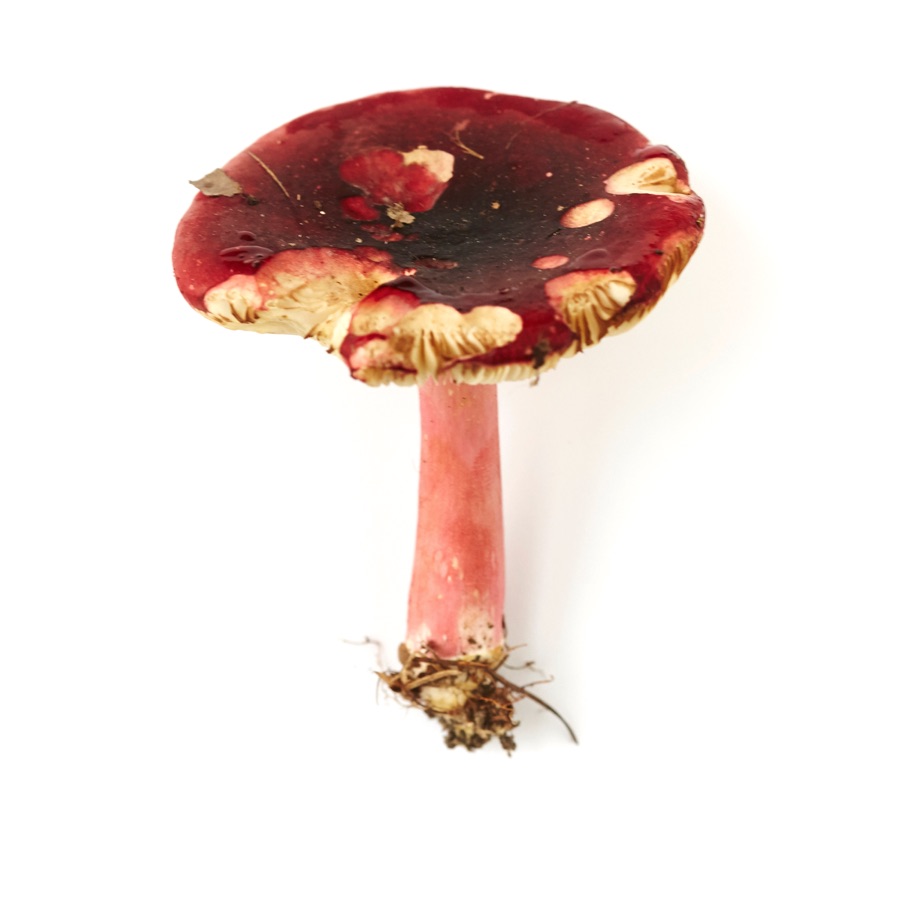 Crab brittlegill
More than a hundred kinds of russulas grow in the wild in Denmark. Common to them all is their fragile porous structure—the stems nearly disintegrate in your hands. For foragers, the crab brittlegill, with its distinctive shellfish flavor, is probably the most desirable mushroom of all.
Where to Find It

Crab brittlegills always grow with conifers, especially pine trees. You'll often find them in groups, but a single specimen may also pop up all on its own here and there.

Coniferous forests.

When to Find It

You'll normally find crab brittlegills in September and October, but sometimes they appear earlier too.

Entire mushroom: August, September, October.

How to Spot It

The most eye-catching trait of the crab brittlegill is its dark red color, which darkens almost to black at the center of the cap. Otherwise dry, its cap turns shiny and viscous when rain falls; its underside is sticky in all types of weather. The largest crab brittlegills measure between 10 and 15 cm in diameter and grow to be up to 10 cm tall. Their stems are two to three cm thick and are white tinged with pink.

How to Pick It

Carefully twist the mushroom loose or cut it at the foot. Larvae may attack crab brittlegills, so check the cut to see if the mushroom is infested with vermin or if the flesh is even.
On the palate

Crab brittlegills have a distinctive flavor of shellfish and a crisp snap.

Aroma

Crush the mushrooms, warm them with the heat from your hands, and take a whiff. The scent of the crab brittlegills is like the inside of a fish crate. The older the crab brittlegill, , the more pronounced its scent will be.
Preparation

Russulas are fragile when first picked, so be careful when handling them. The stems will fall apart so easily that it is better to cut them off right away and discard them. Save your culinary efforts for the caps, which should be fried or grilled.

Uses

Crab brittlegills are good as a garnish with fish—especially lobster or other shellfish. Use them in sauces, fried with herbs, or in stews. You can use the fried mushrooms in light dishes and salads, where their shellfish flavor will shine.

Storage

Store the freshly picked mushrooms in a plastic bag in your refrigerator, where they'll stay fresh for two to three days. Dry, freeze, salt, or pickle mushrooms that you don't use right away to extend their shelf life. You can also wash and store them in a high-quality olive oil with some herbs such as marjoram or thyme, but this will shorten their shelf life.

Substitutions

You can bring out the crab brittlegills' shellfish flavor by mixing hedgehog mushrooms with shrimp or lobster.
Risk of misidentifying the plant
There are many different russulas in Danish forests, and not all of them are suitable for cooking. As a rule of thumb, you can take a bite of any russula; if it's very bitter or has a strong flavor, leave it behind—it's not necessarily toxic, but not readily edible either. If, on the other hand, the flavor is pleasant and mild, you can eat it regardless of whether it's a crab brittlegill or one of its many cousins.