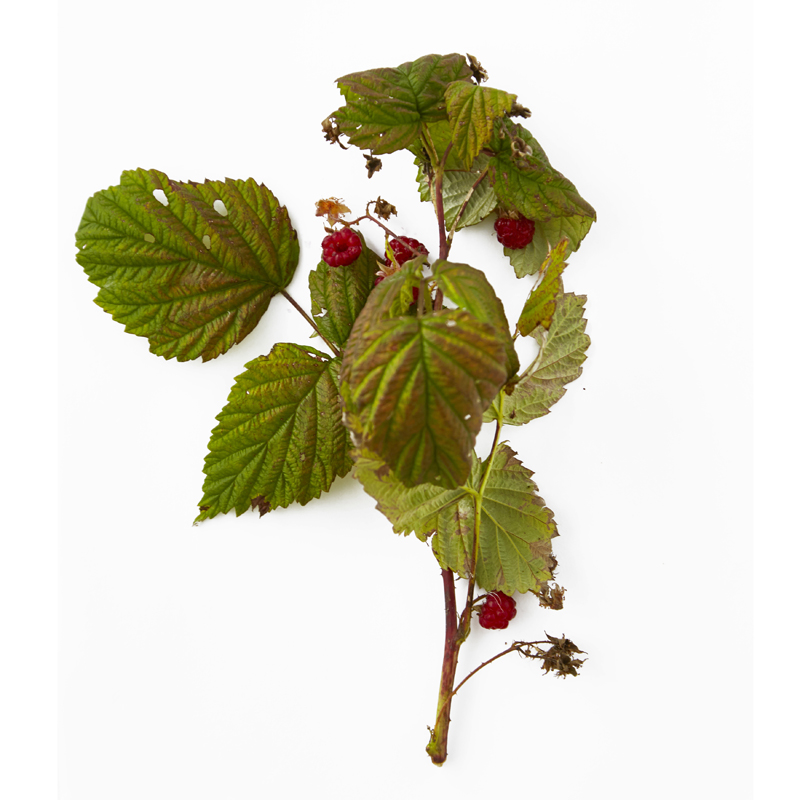 Raspberry
Raspberries are one of the heroes of midsummer. During the period when many herbs lose their appeal, and before it's time to harvest fall fruit and berries, raspberries are the wildest delicacy.
Where to Find It

You can find raspberries in most parts of Denmark, where they often grow in large thickets. A hardy plant, raspberries fare best in areas with moisture and rich soil, such as hedges, copses, and deciduous forests where there's plenty of water in the ground and lots of leaves that can turn to humus. They also need sunlight, so look for them along paths, in clearings, or around the edges of shrubs. If left to grow unchecked, they can quickly take over entire areas.

Deciduous forests, hedges, roadsides.

When to Find it

You can pick raspberries in July and August.

Berries: July, August.

How to Spot It

Wild raspberry bushes can be dense and twisted or more light and fragile. The older shoots are woody with small thorns, while new shoots are fresh and green with small, soft thorns that grow close together, almost like hair. The oval leaves, which are dark green on the surface and silver-green underneath, become lined with distinct ribs as they grow. The flowers are small and white and the berries are red (sometimes yellow).

How to Pick It

Remember to put on a good pair of gloves and clothing that covers you well when you pick raspberries, or you'll likely end up with lots of scratches on your arms and legs. Raspberries ripen quickly and will easily become mushy, so bring a couple of small buckets, rather than one large one to prevent crushing. You can always use the soft ones for marmalade though.
On the palate

Wild raspberries taste aromatic, acidic, and sweet with slight notes of vanilla.

Aroma

Wild raspberries smell faintly floral.
Preparation

Raspberries tolerate heat well. You can use them in a marmalade, boil them in a sauce, or bake them in a pie. You'll preserve the fine, aromatic flavor best if you avoid cooking them for too long, however. The berries can also be used to flavor vinegar, oil, or alcohol. You can use the raw berries as-is or marinate or purée them.

Uses

Raspberries are at home in both sweet and savory dishes. In the latter, they provide sweetness, aroma, and acidity, and nicely balance dishes heavy in umami, salt, or fat. A raspberry vinegar, for example, can add a whole new dimension to a tomato salad. The fruit works well with venison or in a salad with a salty cheese like chevre. They can also pair nicely with sheep's cheese, poultry liver pâté or terrines, red deer, cabbage, and pork. Raspberries can also take a starring role in most cakes and desserts. A classic pairing is with white and milk chocolate, but the berries can also be used in cream-based desserts or fermented milk products.  

Storage

Raspberries don't have a long shelf life. Store the freshly picked berries in a cool place and freeze the ones that you don't use right away.

Substitutions

Dewberries or blackberries can be substituted for raspberries.
Risk of misidentifying the plant
There is no risk of mistaking the plant for another dangerous or undesirable plant. Raspberries are, however, in the same family as dewberries and blackberries, and can sometimes be mistaken for one another.