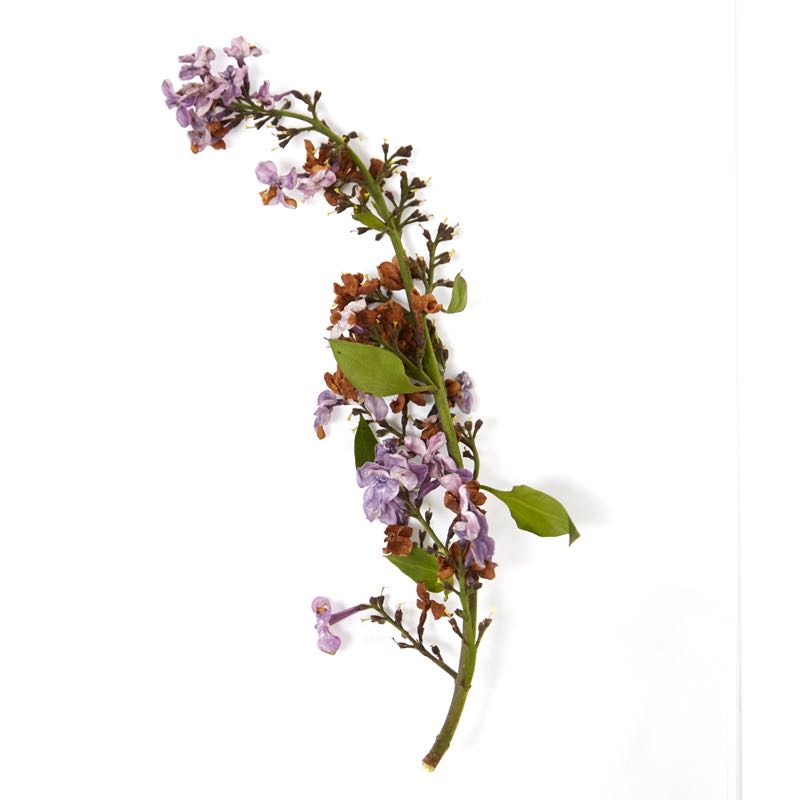 Lilac
Lilacs were introduced to Denmark over 200 years ago and have since strayed from gardens and parks out into the wilderness. With their potent, early summer blooms, they've found their place in the sun.
Where to Find It

Lilacs need plenty of light, so you'll often find them in hedges and copses, or growing between well-spaced bushes and trees. They prefer soil that isn't too dry.

Salt marshes, deciduous forests, towns, hedges.

When to Find It

Lilacs bloom for around three weeks from the latter part of May until the first days of June.

Flowers: May, June.

How to Spot It

With their powerfully aromatic, dark purple, white, or pink flowers, lilacs are a worthy challenger to the small-leaved lime tree in the competition for the representative scent of early summer in Denmark. Lilac is an aggressive flowering bush that grows up to six meters tall and doesn't have many side shoots. Sometimes it looks like a little tree. It has smooth, oval leaves that are a bit leathery and stiff. Individual flowers have four petals and a yellow center; multiple flowers with grow together to form characteristic cones.

How to Pick It

Clip off the whole flower cone.  

NB!

The Ministry of Environment and Food of Denmark recommend limited consumption, due to limited knowledge and studies.
On the palate

Lilac has a strong, slightly bitter flavor.

Aroma

Lilac has a richly perfumed, floral scent.
Preparation

Separate the individual blossoms from the flower cones and lay them out on a moist dish cloth for an hour so they stay fresh and any invading creatures escape.

Uses

Freshly picked lilac flowers can be used to decorate cakes and salads, where they'll add a perfumed touch of pure summer. You can make lilac schnapps or liqueur—especially when combined with lemon balm—or use them to scent homemade ice cream, pie, marmalade, or juice. You can also dip the whole umbels in pancake batter to deep-fry them, or poach them quickly in sugar syrup to candy them. Lilac vinegar tastes of pure summer.

Storage

Cover the lilac flowers with a moist cloth and store in a sealed bag or air-tight container inside the crisper drawer of your refrigerator. It's best to use them as quickly as possible, but they will normally stay fresh for three to five days.

Substitutions

Can substitute elderflower or rowan.
Risk of misidentifying the plant
There is no risk of mistaking the plant for another dangerous or undesirable plant.