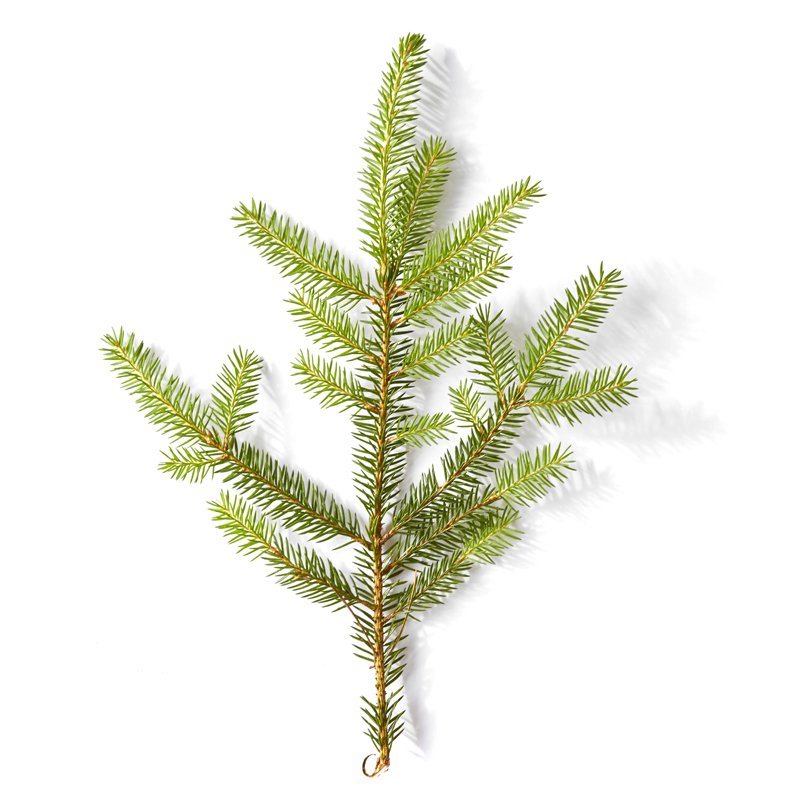 Norway Spruce
As the carol goes: "first we show the tree, then it's time to eat"—but it's not just candy cones full of nuts and cakes that can be eaten off of the traditional Danish Christmas tree. The tree itself has something to offer.
Where to Find It

Norway spruce is the most common forest tree in Denmark—it actually covers about a third of our forested areas in dark, dense forests where the light rarely hits a floor covered in brown needles, dead branches, and not much else. Once a Norway spruce forest reaches a certain age and the branch cover becomes less impenetrable, small mosses, herbs and even an elder or two can find their way to the forest floor.

Coniferous forests, towns.


When to Find It

You can harvest new shoots from the Norway spruce in May and June. Shoots: May, June.

Shoots: May, June

How to Spot It

A Norway spruce can grow to be 30-40 meters tall and has reddish-brown bark that turns greyish and becomes flaky with age. The cones grow to 10-16 cm long and hang beneath the branches, which grow in rings around the trunk. The needles are stiff and prickly.

How to Pick It

Find a Norway spruce that isn't growing on a Christmas tree farm and snip the small green shoots from the branches—as long as you have permission.
On the palate

Spruce shoots taste acidic and resiny, but once cooked, they become sweeter, like berries.

Aroma

Spruce shoots smell of camphor and resin.
Preparation

Boil spruce shoots and use them in syrup—they aren't good raw.

Uses

Make spruce syrup by boiling the fresh shoots for 15 minutes and then letting them steep in the cooking liquid for a day. Strain out the needles and add sugar and a bit of lemon and simmer until it reaches the desired consistency. You can use the syrup in baking, in porridge or yoghurt, and anywhere you would use maple syrup. You can also stir it into stews to bring out a dark, spicy sweetness.

Storage

You can freeze the shoots, but don't layer them thickly before use—they need air, or will quickly perish. Pour spruce syrup into glass, and store it in a dark, cool place.

Substitutions

No equivalent substitutions.
Risk of misidentifying the plant
Norway spruce may look like Scotch pine, which isn't toxic, but it can also be confused with yew trees, which are. Like Norway spruce's, Scotch pine branches grow in rings around the trunk, but on the spruce small twigs grow between the large branches, something that Scotch pines lack. Spruce also has a distinctive smell, which yew trees don't.
Ingredient used in
Alternative ingredient in