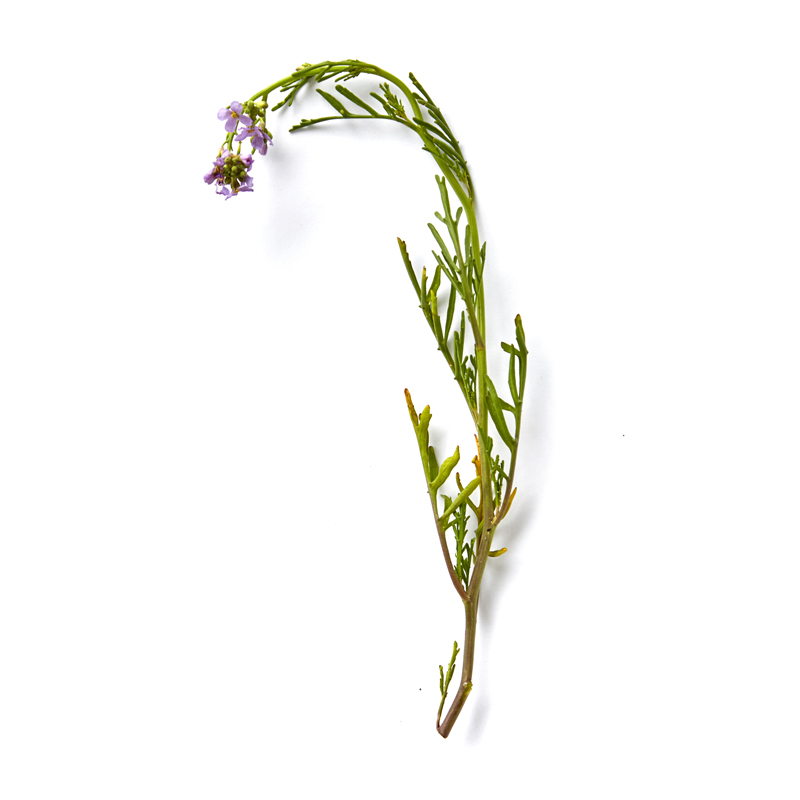 Beach Mustard
Beach mustard is an aquatic herb with a salty mustard flavor and a juicy bite. You can use it in oily fish dishes and as a replacement for mustard.
Where to Find It

Beach mustard is especially common in eastern Denmark. A hardy plant that can tolerate salt, wind, and intense sunlight, it grows on the beach between the water and rocks in areas where the seaweed from which it derives nutrients has washed ashore to decompose. You can find the low-growing herb by looking in and around the seaweed.

Salt marshes, beaches.

When to Find It

From July to October, or before the first frost.

Leaves and flowers: July, August, September, October.

How to Spot It

Beach mustard looks like puffy, greyish-green dill, and is topped with small, pink flowers. It grows in clumps on the beach, making it look like a bunch of green pillows scattered on the sand. Its stems—smooth and swollen-looking—support small, arugula-like leaves at the top. The siliques—the plant's seeds pods—look like chilli peppers.

How to Pick It

When collecting sea mustard, choose the younger, more tender, and swollen parts of the plant. The fibrous parts of larger plants are not as tasty. Be careful not to uproot the plant and pick gently so as not to damage it. Clip judiciously from each plant.

NB!

The Ministry of Environment and Food of Denmark recommend limited consumption, due to limited knowledge and studies.
On the palate

A sharp, slightly bitter mustard flavor dominates beach mustard, but it also has notes of horseradish and arugula, and blends a slight salinity with marked sweetness. The stems are crisp and succulent. The siliques pop in your mouth, while the leaves are tender and juicy.

Aroma

The plant itself has no particular scent, but if you break off parts of the stem, you'll get a mild whiff of horseradish.
Preparation

Prolonged frying or boiling will cause beach mustard to lose its flavor and fall apart. Cook it only lightly, or use it as a fresh herb.

Uses

Its sharp mustard flavor makes beach mustard perfect for dishes that normally take mustard. Its slight saltiness and crisp bite pair well with fish and shellfish.

Storage

Store beach mustard in a sealed bag or airtight container inside the crisper drawer of your refrigerator.

Substitutions

Beach mustard can be replaced with similarly spicy herbs such as broadleaf pepperweed or horseradish.
Risk of misidentifying the plant
There is no risk of mistaking the plant for another dangerous or undesirable plant.