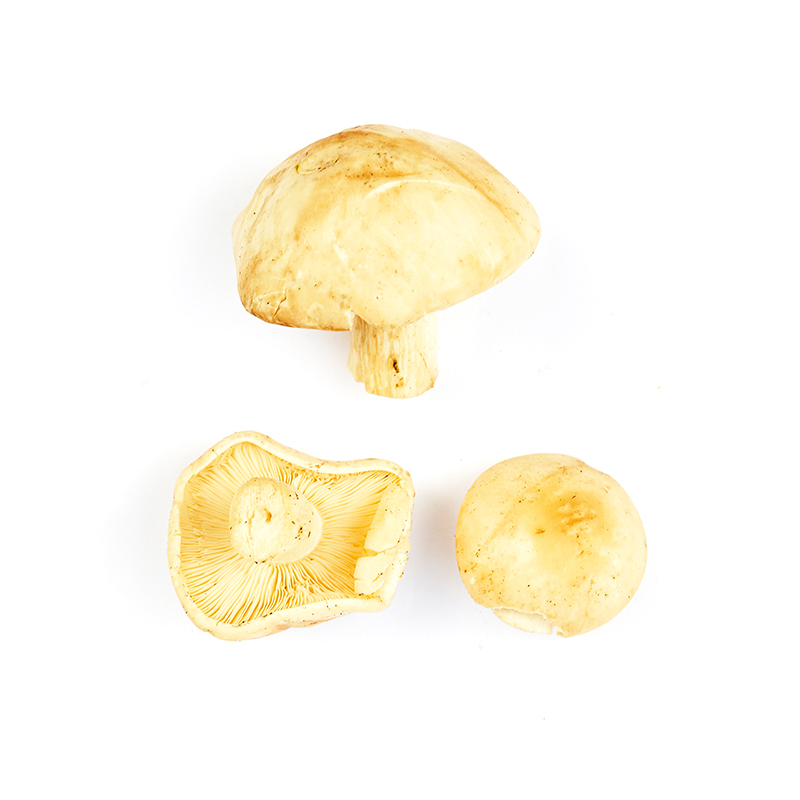 St. George's mushroom
St. George's mushroom is one of the few large, edible mushrooms that nature offers in the spring. It's a creamy white, meaty mushroom with a distinctive smell of flour.
Where to Find It

St. George's mushrooms grow in what are called fairy rings—circles of mushrooms—in good humus and in bright areas of the forest, or at the edge of woods along roads. They're typically found in large groups and are quite common, especially in mature gardens, parks, hedges and copses.

Salt marshes, deciduous forests, coniferous forests, towns, hedges, roadsides, grasslands.

When to Find It

You can pick St. George's mushrooms from April until June—most frequently in May.

Entire mushroom: April, May, June.

How to Spot It

St. George's mushrooms are a solid cream color and grow up to 10 cm tall. They rest on a thick stem that is typically widest at the bottom. Their dry caps spread up to 10 cm in diameter, and in some cases gradually take on a leather-colored tinge. The cap rims on younger mushrooms have a slight lip near their white gills, which grow close together and are the same color as the rest of the mushroom. Younger specimens also have a thin cap that is evenly wavy, while that of older mushrooms can be lumpy.

How to Pick It

Carefully twist the mushroom loose or cut it at the base. Check the cut to see if the mushroom is infested with vermin or if the flesh is even.
On the palate

The most noticeable feature of St. George's mushrooms is a distinctively flour-y texture. Their flavor is lightly bitter and oily. The caps are firm and dense, while their stems are fibrous.

Aroma

St. George's mushrooms smell strongly of flour.
Preparation

It's generally best to cook St. George's mushrooms, but if they're fresh, they can be eaten raw. After some days, they'll start to turn a darker color. Sauté them on high heat in olive oil or clarified butter until they turn a golden color—this will also diminish their pronounced flour-y flavor.

Uses

Use the cooked mushrooms as the main ingredient in a stew, or as a side with meat. It can be a good idea to mix St. George's mushrooms with less strongly flavored ones in, for example, a fennel soup.

Storage

Freeze, dry, salt, or pickle the mushrooms that you don't use right away to extend their shelf life. If you freeze St. George's mushrooms, fry them first, otherwise they will become bitter. Drying St. George's mushrooms will make them quite hard, and you'll need a couple of hours to rehydrate them. You can also wash and store them in olive oil with some herbs, such as marjoram or thyme.

Substitutions

No equivalent substitutions.
Risk of misidentifying the plant
St. George's mushrooms can be confused with the deadly fibrecap, which doesn't have the former's distinct smell of meal. Its white flesh also turns a pink color when cut. The livid pinkgill smells of meal and looks like the St. George's mushroom, but generally appears later in the season. Livid pinkgill also has yellow or pale pink gills, whereas the St. George's mushroom's gills are white.