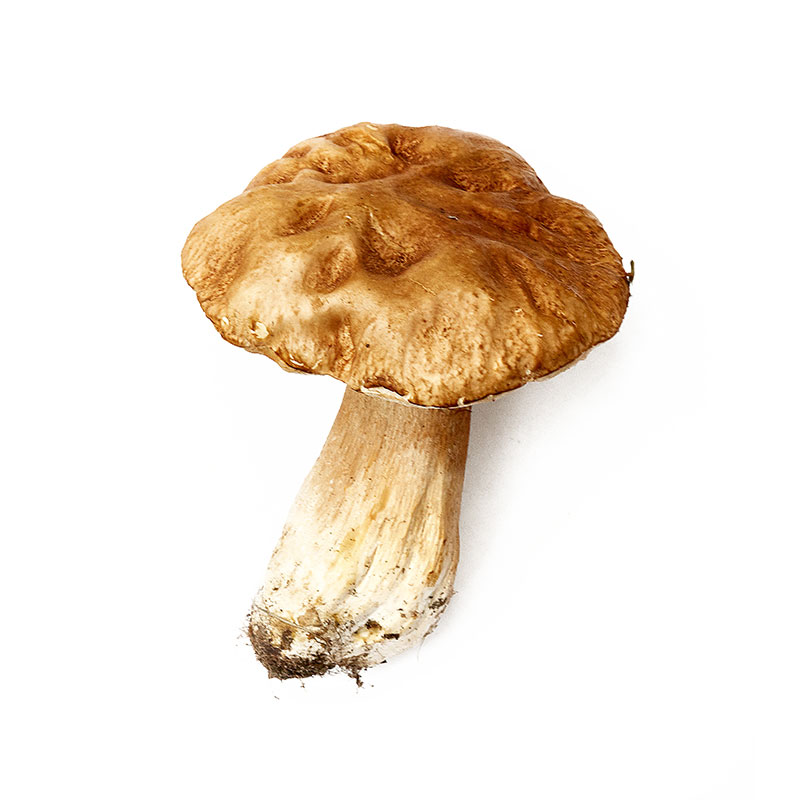 Cep
Boletes are a family of mushrooms that are much-coveted for their distinctively nutty flavor. Cep is the king of the boletes.
Where to Find It

Look for cep mushrooms under large oak, beech, and spruce trees where the soil isn't covered by too many leaves. If the ground is also mossy with small tufts of wavy hair-grass and other grasses, you'll know you're in cep territory. They often pop up in large numbers on forest roads that traveres spruce tree plantations and in beech forests with lightly acidic soil.

Deciduous forests, coniferous forests, towns.

When to Find It

The cep family is made up of three mushrooms that have slightly different seasons. You can pick summer cep from June until September, while king bolete and pine bolete are ready to be picked from July until October—and some years all the way into November. A warm, wet fall will generally bring forth lots of bolete mushrooms.

Entire mushroom: June, July, August, September, October.

How to Spot It

Cep mushrooms can grow quite large, with a cap up to 25 cm in diameter, but normally you'll find them in the size range of 10-15 cm. Its meaty camp is grayish-brown, while its light brown or off-white stem protrudes 5-10 cm from the forest floor. If you look closely, you'll see a fine netting on its stem, which is one of cep's trademarks. The color of the pores on the underside of the mushroom changes from white to yellow to olive green as the mushroom ages.

How to Pick It

Cut off the mushroom one centimeter from the earth and dust off most of the dirt with a small brush. You can also remove some of the dirt by shaving off the bottom of the stem with a knife. Snails and worms really like cep, so check where you cut to see if the mushroom was attacked by vermin or if the flesh is nice and even. Often worms only attack the stem and middle part of the cap.
On the palate

Cep has a relatively strong, nutty flavor. The young mushrooms have firm, springy flesh that softens as they age.

Aroma

The younger cep mushrooms have a subtle fruity scent, while the older specimens are muskier.
Preparation

It's best to cook cep, but you can also eat the very young mushrooms raw too. If you fry them, turn up the heat at first so you lock in the moisture and preserve the springy texture. If the bolete is old, cut out the pore surface and discard it, as it becomes bitter with age and turns slimy and absorbs a lot of oil when cooked. You can dry the cut pores in the oven until crisp, then grind them into mushroom flour.

Uses

Small boletes, which look almost like champagne corks, can be marinated whole or cut in half and sautéed. Medium-sized caps that still have firm flesh make a good choice for stuffing and grilling. You can chop large mushrooms that show signs of age into smaller pieces and use in stews or soups. You can also make cep oil out of bruised or damaged mushrooms by heating a neutral-flavored oil to around 75 degrees Celsius, poaching the mushrooms for an hour, and then letting the mixture rest overnight. Use the oil to make a delicious mushroom mayonnaise. It's generally a good idea to use lots of herbs in your mushroom dishes.

Storage

Store freshly harvested mushrooms in a plastic bag in your refrigerator, where they'll stay fresh for two to three days. Dry, freeze, salt, or pickle mushrooms that you don't use right away to extend their shelf life. You can also wash and store them in a good olive oil with some herbs such as marjoram or thyme, but this will shorten their shelf life.

Substitutions

Other boletes can be substituted for cep.
Risk of misidentifying the plant
Cep can be mistaken for bitter bolete, which has an uninteresting, bitter flavor, but isn't toxic. Bitter bolete has a dry cap, whereas cep's is greasier. Bitter bolete also has more visible netting on its stem, and its pores are pinker in color, while cep's pores are yellow or olive green.