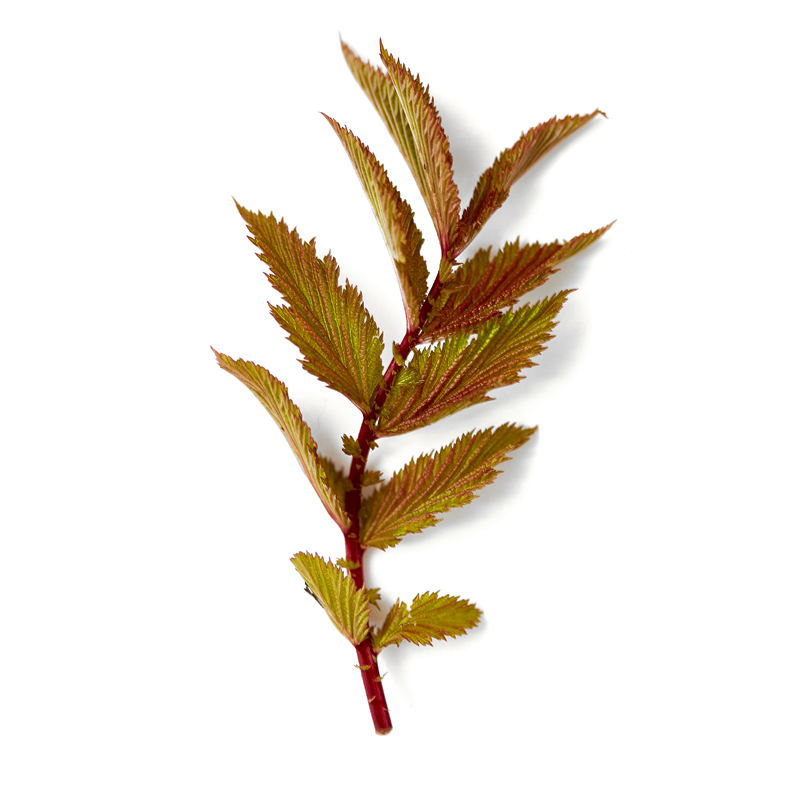 Meadowsweet
Meadowsweet was once used to spice mead, beer, and wine. The flowers have a unique scent noticeable even a distance from where the plant is growing.
Where to Find It

Meadowsweet is especially common in the eastern part of Denmark. Preferring moist, nutrient-rich soil, it grows near streams and lakes, or by roadsides where there's water nearby. Look for dark green colonies topped with characteristic white, puffy flowers; there will often be swarms of insects buzzing around them.

Streams, lakes, towns, hedges, roadsides, grasslands.

When to Find It

You can pick the leaves of meadowsweet from March until October, and its flowers from June until August. If it's cut back early enough to regrow in the middle of summer, it will continue to bloom in some places until November.

Leaves: March, April, May, June, July, August, September, October.
Flowers: June, July, August.

How to Spot It

Meadowsweet can reach a meter tall and has egg-shaped, serrated leaves that are smooth on the surface, but matte and hairy underneath. The leaves are reddish at the beginning of the year (and green thereafter) and they grow in irregular sizes up along the red stem. At the top, the stem forms several branch tips that are covered with small, white flowers, many of which grow together in pompoms or puffs. There is often a thick swarm of insects flying around the flowers, gathering nectar.

How to Pick It

People typically pick only the flowers of meadowsweet, but its young spring leaves are also interesting. Meadowsweet has a strong flavor, so you don't need much of it.
On the palate

The leaves of meadowsweet are fragrant with notes of spearmint and cinnamon, and taste of honey, almonds, and marzipan. They're delicate and tender, but can be hard to chew and will dry out the mouth some.

Aroma

Meadowsweet smells faintly of marzipan.
Preparation

You should use the leaves raw, but they may be rough, so chop them finely unless you're steeping them to make tea. Use the flowers as a seasoning rather than an ingredient. For example, you can infuse the flowers, or extract their flavor in a liquid— oil, vinegar or milk—that can then be used in cooking. Drying the flowers and leaves will intensify their flavor.

Uses

Meadowsweet's aromatic flavor has a place in savory recipes, but it fits best in sweet dishes. It works very well with acidic flavors; a drizzle of meadowsweet vinegar, for example, can add a final boost to a dish. The herb is especially good in recipes rich enough to capture its aroma, such as cream-based desserts.

Storage

Cover the meadowsweet with a moist cloth and store in a sealed bag or airtight container inside the crisper drawer of your refrigerator, where the leaves will stay fresh for up to two weeks. The flowers should be used one or two days after being picked.

Substitutions

Sweet woodruff can be substituted for meadowsweet.
Risk of misidentifying the plant
There is no risk of mistaking the plant for another dangerous or undesirable plant.