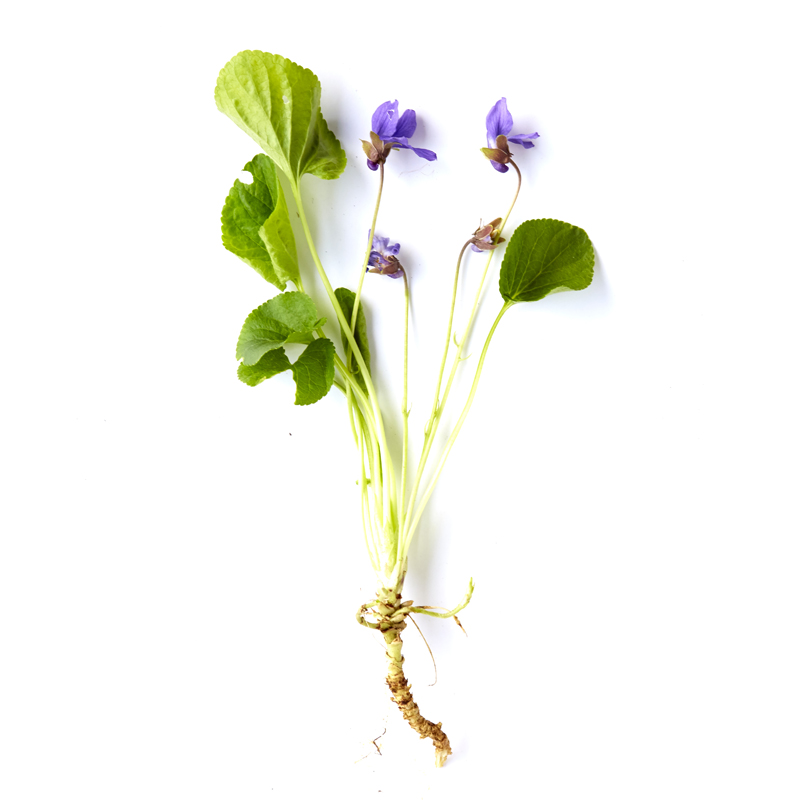 Sweet violet
Sweet violet was once widely used in sweets in Denmark, but the tiny flower has since gone out of style. In France, however, they still make violet liqueur, violet hard candies, and classic violet desserts.
Where to Find It

Sweet violet thrives in soil that is rich in nutrients—lawns and areas with lots of decomposing leaves are ideal. You'll find sweet violet in hedges and deciduous forests, especially near beech trees. They often popup as tiny spots of purple on lawns and under hedges near buildings.

Deciduous forests, hedges, roadsides.

When to Find It

Sweet violets bloom in March and April. If the summer was hot and humid, you'll sometimes find them growing in late summer as well.

Flowers: March, April.

How to Spot It

Sweet violets are diminuitive plants with heart-shaped leaves and purplish-blue flowers. They grow to be 5-15 cm tall. On their surface, the leaves are pale, but the underside is bright green. The flowers vary in color from light to dark purple, and are punctuated with a yellow dot in the center.

How to Pick It

Snip the unfurled flower heads carefully from the top of the stem. Be prepared to pick a lot; it can take 200 flowers, for example, to make a liqueur. And always taste first: the strength of their flavor varies greatly, and you don't want to pick a ton of blossoms only to learn they are tasteless.
On the palate

Sweet violets taste floral like perfume and sweet like nectar, but they also have acidic, metallic notes as they linger. At their best—which can be downright fantastic—they blend the scent of roses with the flavor of ripe forest raspberries. The metal aftertaste can tickle the back of the tongue.

Aroma

Sweet violets have a mild scent of nectar and roses.
Preparation

Sweet violets have a fleeting aroma that cannot withstand heat. It's best to use them fresh, dry them and make an infusion, or extract their flavor by soaking them in alcohol, vinegar, or water.

Uses

In savory dishes, sweet violets bring out the sweetness and metallic flavors of shellfish beautifully. They also go well with white fish. They add a sweet-and-sour component to salads, and freshness when they accompany cheese. Violet vinegar adds floral notes to all sorts of fresh spring and summer dishes. Sweet violets can serve as aromatic decorations on desserts, and boost their sweetness. They go particularly well with rich cream or egg-based desserts like ice cream and cream cakes. Candied violets are a classic treat on their own, and can also be incorporated easily into puddings and cakes. , Violet-infused water makes a good base for marmalade or jelly. Sweet violets can also be used to make liqueur or schnapps.

Storage

Cover sweet violets with a moist cloth and store in a sealed bag or airtight container inside the crisper drawer of your refrigerator. It's best to use them as quickly as possible, but they will normally stay fresh for three to five days.

Substitutions

Sweet violets can be replaced with rosa rugosa, which has some of the same floral and fragrant flavor.
Risk of misidentifying the plant
There is no risk of mistaking the plant for another dangerous or undesirable plant. There are, however, a few other varieties of violets that, while edible, don't have much flavor.