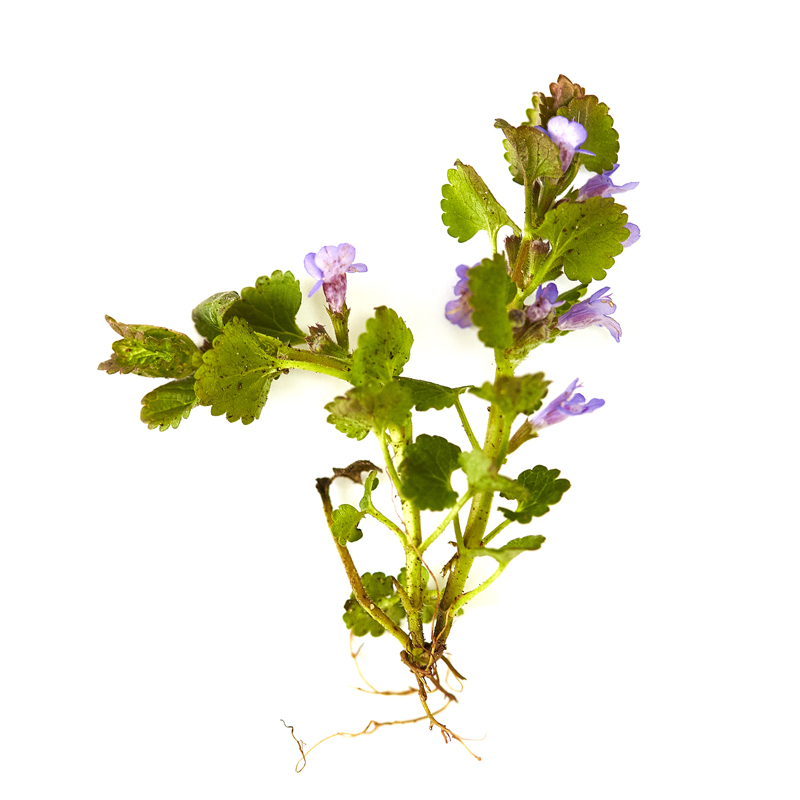 Ground ivy
Ground ivy belongs to the mint family and combines the freshness of that plant with the earthier, somewhat peppery flavor of sage and rosemary. Ground ivy is sometimes called "creeping Charlie," which makes sense if you've ever seen how it can invade an area.
Where to Find It

Ground ivy normally lives in shadowy, moist places—preferably under leaf cover, where it creeps over the ground, extending its hairy stems into the air. It can tolerate sunny areas, but it will not spread as widely as it does in the shade. Common in gardens and parks, it spreads quickly, covering vast tracts of land with its dense foliage. Like fungi, ground ivy has a root system that penetrates deep and wide, so it will easily survive most attempts at stamping it out.

Deciduous forests, coniferous forests, towns, hedges, roadsides, grasslands.

When to Find It

You can pick ground ivy all summer long.

Entire plant: May, June, July, August.

How to Spot It

Ground ivy can reach half a meter in length and tends to grow in large colonies. Its leaves are two to three cm in diameter, kidney-shaped or round, and have gently rounded teeth. They attached individually to stems that grow between three and six cm long, in pairs across from one another along the rectangular, hairy stalk. In spring, ground ivy develops small tubular flowers that are purple or blow and grow in groups of two or three along the upper part of the stalk.

How to Pick It

You can eat the whole plant, but the young leaves, which can be removed by hand, are the most desirable.
On the palate

Ground ivy has a distinct flavor of mint and a bitter aftertaste of pepper, sage and thyme. The plant feels slightly scratchy on the tongue.

Aroma

Ground ivy smells strongly of spruce and fresh hemp. When you break the stem, it gives off a minty aroma.
Preparation

The young, fresh leaves should be eaten raw, though their flavor is so pronounced you may want to use them sparingly. The older, tougher leaves can be cooked, or dried and used in tea. Be careful when cooking ground ivy, as heat causes it to quickly lose much of its flavor.

Uses

Use the raw leaves of ground ivy in salads—you can toss them, for example, with fresh spinach or sprinkle them over a beet salad. Their subtle bitterness pairs well with rich, fatty meats like braised lamb. One especially delicious preparation is to fry the leaves like tempura—just make sure to separate them before dipping them in batter. Cooking ground ivy quickly will bring out its peppery flavor, making it suitable for both sweet and savory dishes. Its minty aroma cuts nicely through richness or spice, especially in Asian and North African recipes.

Storage

Cover the ground ivy with a moist cloth and store in a sealed bag or airtight container inside the crisper drawer of your refrigerator, where it will keep for a week.

Substitutions

You can achieve a nearly identical flavor by combining mint, hop shoots, and marjoram.
Risk of misidentifying the plant
There is no risk of mistaking the plant for another dangerous or undesirable plant.
Ingredient used in
Alternative ingredient in