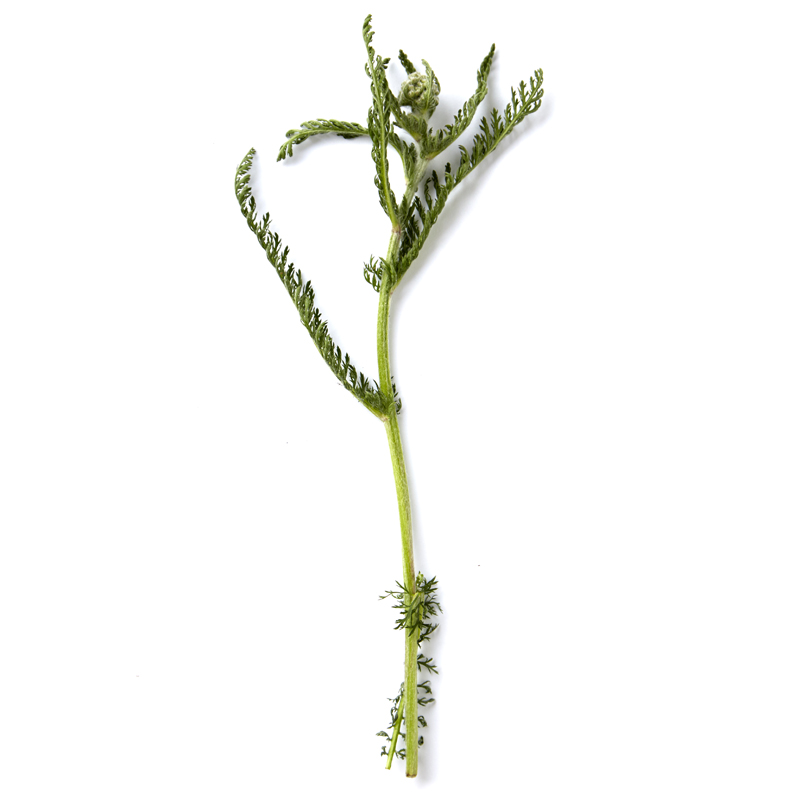 Yarrow
Yarrow is traditionally used in schnapps, but its aromatic and slightly bitter flavor makes it an interesting herb to experiment with in savory dishes.
Where to Find It

Yarrow can grow in almost any landscape. In urban areas, it's commonly found along streets and bicycle paths, in green spaces, and on lawns. It also grows in salt marshes, hedges, on roadsides, and grasslands. It's hardy and only needs light and suitably dry soil to thrive.

Salt marshes, coniferous forests, towns, hedges, roadsides, grasslands.

When to Find It

You can find yarrow in early spring, but it blooms from June until October. Yarrow will regrow after being cut back, so you'll find new shoots outside of its actual season.

Shoots: April, May.
Leaves and flowers: June, July, August, September, October.

How to Spot It

Yarrow is an herb that can grow 20-60 cm tall. You can recognize it by its leaves, which most closely resemble bird, and grow irregularly along its tall, tough stalk. Small white flowers that cluster together in saucer-sized umbels crown the stalk.

How to Pick It

Both the leaves and flowers of yarrow are edible. If you are going to use the former raw, you'll want young leaves that aren't too tough, so focus on new sprouts. The large leaves, while not good to eat, can still be used to season a dish.

NB!

The Ministry of Environment and Food of Denmark recommend limited consumption. There are no reports of poisoning, but yarrow is listed on the Poison Control webpage, where it is stated yarrow cause sickness.
On the palate

Yarrow tastes bitter like cress, with spicy notes of rosemary and pepper. The flowers, which have a slight bite, are more bitter than the leaves, and can make the mouth feel dry. The feathery leaves feel like dill or fennel fronds on the palate.

Aroma

Yarrow has an aromatic scent of rosemary and pepper.
Preparation

Use yarrow sparingly to ensure that its bitterness doesn't overpower everything else. The flowers are typically too sharp to use in recipes, though some make yarrow schnapps from them. The leaves, on the other hand, can be eaten raw or cooked. Yarrow can be quickly blanched or simmered for a long time; you can also stir it into a broth like vegetable stock to lend flavor. When adding yarrow to a dish, it's best to chop the leaves finely.

Uses

Yarrow works well with fatty, bland, or sour ingredients that can round off its bitterness and bring out the herb's spice and aroma. Its scent and flavor combine especially well with acidic ingredients like tomato or lemon. You can add it to a vinaigrette to brighten new potatoes or a simple green salad. It sharpens oil-based marinades for grilled meat and vegetables, blends well into herb butters, and pairs nicely with marbled cuts of pork, oily fish and shellfish, and roasted lamb or beef. Yarrow contains a substance that causes a skin reaction in some people, so use it sparingly if you are unsure of whether your guests are allergic to it.

Storage

Cover the yarrow with a moist cloth and store in a sealed bag or airtight container inside the crisper drawer of your refrigerator, where it will stay fresh for up to two weeks.

Substitutions

No equivalent substitutions.
Risk of misidentifying the plant
There is no risk of mistaking the plant for another dangerous or undesirable plant.