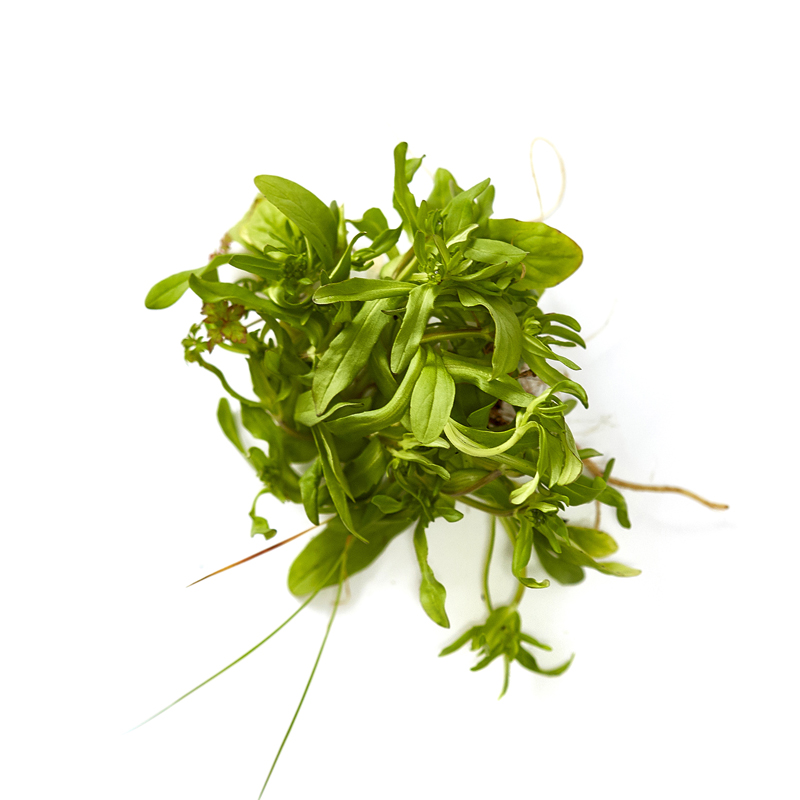 Lamb's lettuce
Lamb's lettuce is the wild version of the mâche that you can buy at the store. It goes dormant for winter and is ready for picking at a time with there's not much else available.
Where to Find It

Lamb's lettuce can be found all over Denmark, but it's less common in western Jutland. It thrives in open landscapes in dry, sandy soil near gravel pits, along roads, and on dry slopes. You're most likely to run across it in salt marshes and on the beach near decomposing seaweed, where it can get plenty of nutrients.

Salt marshes, beaches.

When to Find It

The leaves of lamb's lettuce are dormant through the winter and are tastiest in early spring and until April. You can pick the flowers from May until June.

Leaves: March, April.
Flowers: May, June.

How to Spot It

Lamb's lettuce has long leaves shaped like spackling knives or tongues, with a rib running down the middle. The plant can reach up to 20 cm and grows in a rosette that looks like a bouquet gathered at its root. The flower stem grows out of the rosette of leaves and splits into branches. Its delicate blue flowers grow in clusters at the top of the stem.

How to Pick It

Choose the large leaves in the rosette from dormant plants and spread your picking across several plants. Use scissors to clip the flowers so you don't accidentally uproot the whole plant.
On the palate

Lamb's lettuce is mild and slightly crisp to the bite, and leaves an oily feeling in the mouth. It tastes very mild and fresh, with light notes of hay and nuts.

Aroma

Lamb's lettuce has a fresh and mild scent of hay.
Preparation

It's best to use lamb's lettuce raw, but if you do cook it, do so gently so that the leaves don't disintegrate. They can be steamed very quickly, for example, and then plunged into ice water to stop the cooking. Too much acidity can also make the leaves fall apart even when they're raw. The flowers should not be cooked.

Uses

Lamb's lettuce is a very mildly flavored plant. Unless you're only interested in its crisp texture, you'll therefore want to avoid pairing it with ingredients that can overpower it. Use it instead to make a simple salad with clean flavors, tossing its leaves, for example, with soft boiled eggs, air-dried ham, finely grated lemon zest, a couple drops of lemon juice, and a dash of fresh ground pepper. You can use the flowers as edible decorations. Try pairing corn salad with apples, peaches, or oranges, walnuts, cold lamb, steamed fish, basil, strawberries, mild cheese, and hot smoked salmon.

Storage

Cover the lamb's lettuce with a moist cloth and store in a sealed bag or airtight container inside the crisper drawer of your refrigerator, where the leaves will stay fresh for up to one week. You should eat the flowers as quickly as possible.

Substitutions

Chickweed or sea plantains can be substituted for lamb's lettuce.
Risk of misidentifying the plant
There is no risk of mistaking the plant for another dangerous or undesirable plant.