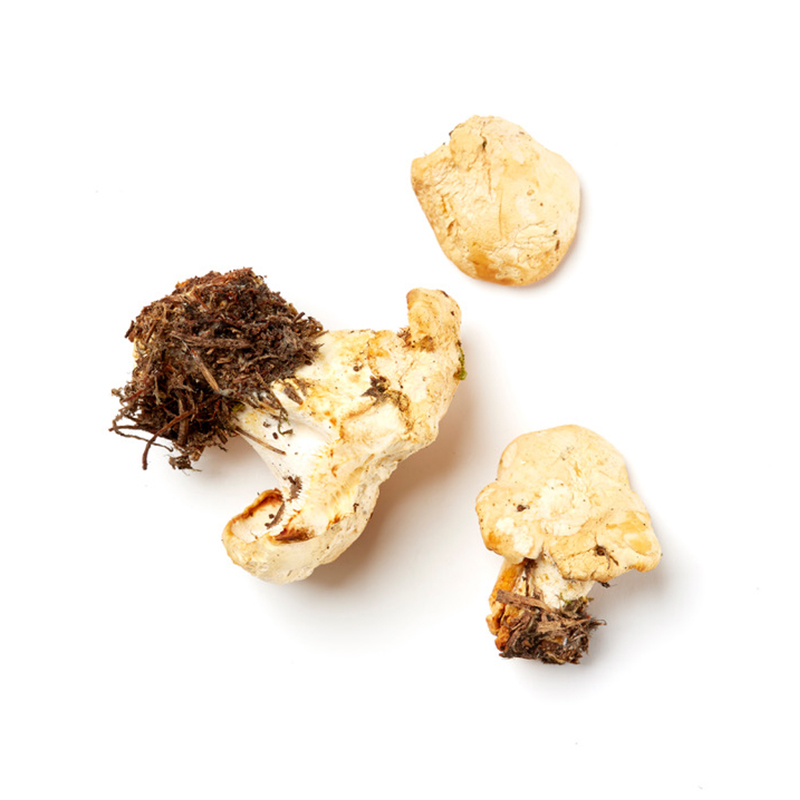 Hedgehog mushroom
Hedgehog mushrooms are common but prized, often as a substitute for chanterelles. They can be found in large numbers, they taste great, and they're very easy to recognize.
Where to Find It

You'll find hedgehog mushrooms in deciduous and coniferous forests where they often grow in small to medium-sized groups on the forest floor.

Deciduous forests, coniferous forests.

When to Find It

They usually fruit in October, but you may spot the very first hedgehog mushrooms as early as July or August.

Entire mushroom: July, August, September, October, November.

How to Spot It

Hedgehog mushrooms can grow up to eight cm tall and have caps that spread up to 15 cm in diameter, with irregularly shaped edges. On young mushrooms, the caps are rounded, but later flatten and form a depression in the center like a belly button. Their color is generally off-white or cream, but can change to an orange-brown. The stem is a bit lighter than the cap and grows up to a couple centimeters thick. The defining characteristic of hedgehog mushrooms is the underside of their caps, which don't have pores, ribs, or gills, but tiny spikes that hang down like icicles. The spikes can be up to a cm long and half a mm in diameter.

How to Pick It

Choose the smaller, freshest specimens, as these won't have have developed too much bitterness. Cut off the mushroom one centimeter above the ground and dust off the dirt with a small brush. Snails and worms are known to attack hedgehog mushrooms, so check the cut to see if it was attacked by vermin, or if the flesh is even. Worms often attack only the stem and the middle part of the cap.
On the palate

Hedgehog mushrooms carry both sweetness and a sharply bitter pepper flavor that together give it a taste reminiscent of watercress. The sweetness is especially pronounced in small, younger mushrooms, while the older specimens are more bitter with a touch of minerality. The spikes are especially bitter. On the palate, the mushrooms are crisp and snappy.

Aroma

Hedgehog mushrooms have a faintly sweet scent.
Preparation

Hedgehog mushrooms should be cooked before eating. Flash fry very small young ones to retain their consistency and color. To diminish the bitterness of older mushrooms, blanch them in water with a little lemon juice, then pat them dry, and pan-fry them until they change color and release some liquid (which should be poured out). Scrape off the spikes of older hedgehog mushroom with a small spoon or a knife with a rounded blade—they're very loose and will fall right off.

Uses

Flash fry hedgehog mushrooms in goose fat, butter, or olive oil until they turn orange, and finish them with a sprinkle of salt to get the most of their natural flavor. They also take well to a simmer in milk or broth, and can be blanched for tender, meaty results. Hedgehog mushrooms are delicious pan-fried, but can also be used in stews, sauces, and braises.

Storage

Store the hedgehog mushrooms in an airtight plastic container inside the crisper drawer of your refrigerator, where they will keep for up to ten days. Freeze, salt, or pickle young mushrooms that you don't use right away to extend their shelf life. Fry them before freezing them, or they will become very bitter. Once thawed, hedgehog mushrooms shouldn't be used in anything other than stews and similar dishes, as they can become tough. You can also wash and store hedgehog mushrooms in high-quality olive oil with herbs like thyme or marjoram, but this will shorten their shelf life.

Substitutions

Chanterelles, which have some of the same peppery flavor, can be substituted for hedgehog mushrooms.
Risk of misidentifying the plant
There is no risk of mistaking the plant for another dangerous or undesirable plant. Hedgehog mushrooms may, however, be confused with the terracotta hedgehog, which has a somewhat milder flavor than the hedgehog mushroom, and is more orange in color.