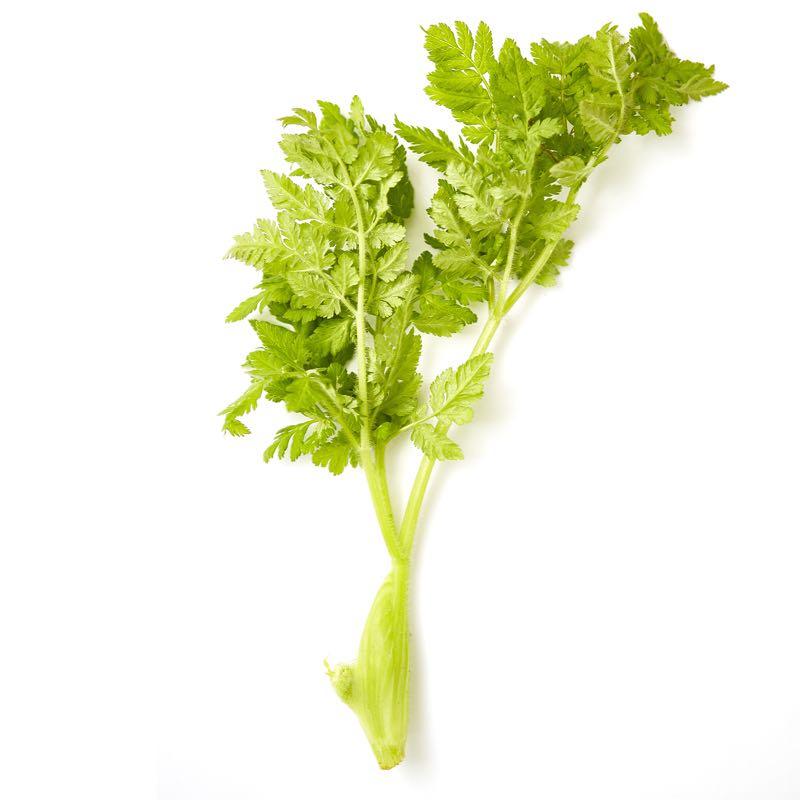 Sweet cicely
Sweet cicely, or Spanish chervil, tastes like anise and fennel. Its sweetness makes it perfect for desserts, but it also has a place in savory dishes, especially those with fish.
Where to Find It

You'll find sweet cicely all across Denmark, albeit less often in western and northern Jutland. It thrives in moist soil, full sun, or in the shade at the edge of woods, deciduous forests, or roadsides.

Deciduous forests, towns, hedges, roadsides, grasslands.

When to Find It

You can pick the leaves and stem of sweet cicely from March until November, and the flowers from May until June. The seeds are available in the middle of the summer.

Leaves and stem: March, April, May, June, July, August, September, October, November.
Flowers: May, June.
Seeds: June, July.

How to Spot It

Sweet cicely can grow to be over a meter tall and has a hollow, round stem with grooves. The leaves resemble fern fronds—they're triangular and feathery as they branch out, with a soft, hairy texture almost like velvet. The small white flowers grow in umbrella-shaped clusters and the seeds, which grow upright in small clusters, look like tiny green, pointy bananas.

How to Pick It

You can use the stem, leaves, flowers, and seeds of sweet cicely. It's best to pick leaves that are bright green, and never those that grow right up against the stem. Instead, take the outer tips from several plants.
On the palate

Sweet cicely has a sweet flavor of anise, licorice, and fennel. The flowers taste sweeter than the rest of the plant. The leaves are soft, and the seeds pop in your mouth.

Aroma

Sweet cicely has a subtle, fresh scent of anise.
Preparation

Like other aromatic herbs, sweet cicely must be cooked with care to preserve its aroma. Its leaves can tolerate careful heating, but should not be cooked for long periods; the stem, which is hardier, can go a bit longer. It can be used to infuse a parboiled dish with its anise taste, add complexity to a sauce, or to flavor beverages. You'll get the full flavor by using it raw and fresh. Eat the flowers raw.

Uses

Sweet cicely can be incorporated into both sweet and savory dishes as a more flavorful version of common cicely. Its anise flavor brings an extra dimension to many dishes—especially when the plant is used raw as a garnish. Sweet cicely is good paired with root vegetables, cauliflower, cream-based desserts like panna cotta, plums or apples, shellfish and fish dishes, buttery sauces like bearnaise, simple Asian dishes, and salads. Schnapps made with sweet cicely tastes much like a light pastis.

Storage

Cover the sweet cicely with a moist cloth and store in a sealed bag or airtight container inside the crisper drawer of your refrigerator, where it will stay fresh for up to one week.

Substitutions

No equivalent substitutions.
Risk of misidentifying the plant
Sweet cicely can be mistaken for other umbellifers, one of which you should be particularly careful about: poison hemlock. The stem on the hemlock is smooth, it has a bluish tinge, and is spotted with red on the bottom. Among umbellifers, only sweet cicely has the scent and taste of licorice, so if in doubt, break and leaf smell it first.