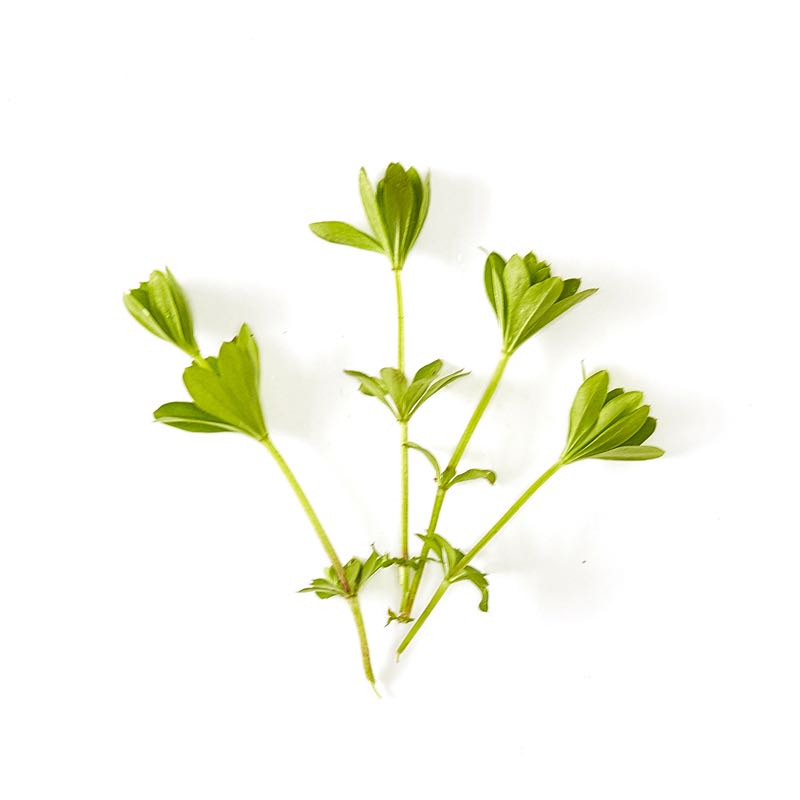 Sweet woodruff
Sweet woodruff has long been used in cooking and in making schnapps and spiced wine across most of Northern Europe. It has a high concentration of coumarin, which is one of the leading flavorings in cinnamon.
Where to Find It

You can find sweet woodruff across most of Denmark. A hardy plant that likes moist topsoil, it prefers to grow where its leaves can turn to humus on the forest floor. Unlike many other herbs, it thrives in the shade, where it often weaves itself into a green blanket between the trees. Look for sweet woodruff in forests, hedges, parks, and on roadsides.

Salt marshes, deciduous forests, coniferous forests, towns, hedges, roadsides, grasslands.

When to Find It

You can pick the entire plant from March until October, but it's especially aromatic and flavorful right before and during flowering. It typically blooms from May until July, but sometimes sweet woodruff will bloom until October.

Flowers: May, June, July, August, September, October.
Entire plant: March, April, May, June, July, August, September, October.

How to Spot It

Sweet woodruff can grow to be 15-25 cm tall and has a smooth stem and slender, tapered, spear-shaped leaves that grow in characteristic rings up along the stem. It has small, white flowers that cluster in small sets at the top of the herb. Its characteristic rings of eight leaves make it an easily recognizable herb.

How to Pick It

Pick the whole flower right above the last ring of leaves so that the plant can continue to grow.

NB!

The Ministry of Environment and Food of Denmark recommend limited consumption. Sweet woodruff contains coumarin which when consumed in excess of 7 grams (for an adult of 70 kilos) raise health concerns.
On the palate

Sweet woodruff has a special flavor of vanilla, cardamom, and cinnamon that comes from the coumarin it contains.

Aroma

Sweet woodruff has a distinctive scent similar to fresh hay.
Preparation

Sweet woodruff can tolerate sustained cooking. You can use the flowers or leaves raw, but when the plant is dried, it develops a more aromatic, distinctive scent and flavor. Sweet woodruff is superb in extracts and infusions—steeped in cream, for example, whitich can then be used to make ice cream or panna cotta.

Uses

Sweet woodruff has an unusual spiced flavor that you don't find elsewhere. Its unique taste means gives it special potential in cooking—either in combination with other flavors, or as the primary note. Sweet woodruff is quite good with beets; reduce it in beet juice to a thick sauce, and pair it with roast veal. You can also match sweet woodruff with cream, salad, mushrooms, or white meat such as chicken or rabbit. In sweet dishes, it makes an excellent spice for strawberries, apples, rhubarb, Japanese knotweed, cream, and pears poached in white wine.

Storage

Cover the sweet woodruff with a moist cloth and store in a sealed bag or airtight container inside the crisper drawer of your refrigerator, where it will stay fresh for up to one week. You can also dry sweet woodruff in the oven on very low heat and store it in a dark, cool place in an airtight container. You should make sure to store dried sweet woodruff in a dry place, as it can develop toxins if exposed to moisture.

Substitutions

Meadowsweet can be substituted for sweet woodruff.
Risk of misidentifying the plant
There is no risk of mistaking the plant for another dangerous or undesirable plant.
Alternative ingredient in