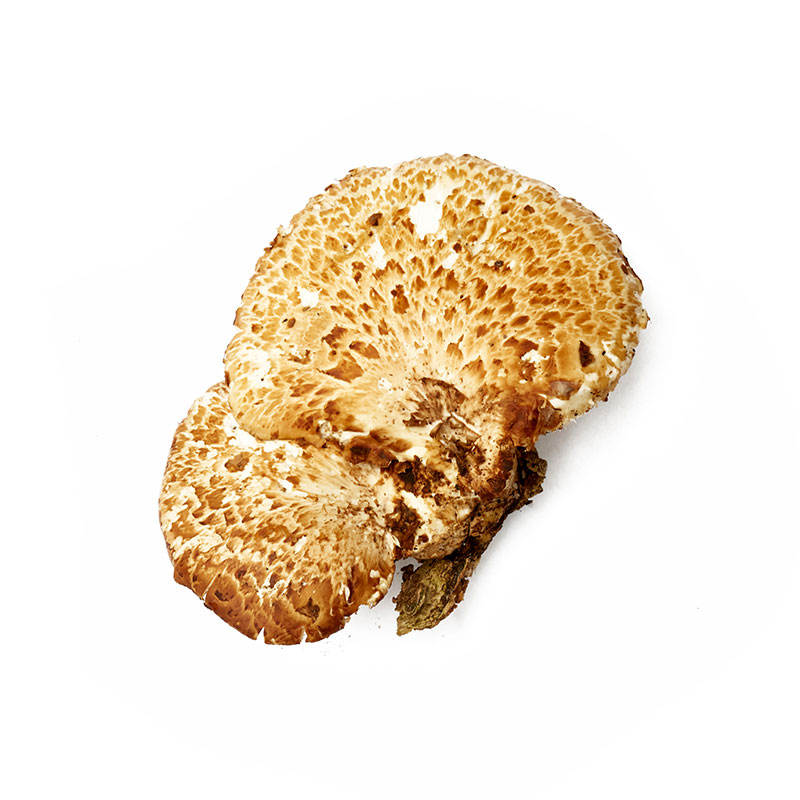 Dryad's saddle
Dryad's saddle is a behemoth of a mushroom with fruiting bodies that reach half a meter in size. It's also one of the great edible mushrooms of spring.
Where to Find It

Dryad's saddle feeds on dying hardwood trees, especially beeches. It tends to grow on trees that are frequently pruned, such as those in gardens and parks and along roads. In many cases you'll find the mushroom high up on the trunk, where it sets to work decomposing the tree. A branch that's attacked by dryad's saddle near the trunk will eventually fall off; the mushroom will continue growing on the broken limb as it rots on the forest floor.

Deciduous forests, towns, hedges.

When to Find It

Dryad's saddle grows most abundantly in May and June, but you can also find it later in the summer.

Entire mushroom: May, June.

How to Spot It

The light brown, scaly caps of Dryad's saddle adhere directly to rotting trees, where they grow to a diameter of 30 to 50 cm. The underside of the cap, which grows at a slant down the short, thick stem, is covered in a rough layer of pores that take the form of a funnel. The pores are white; the stem is cream-colored near the cap, but dark brown toward the tree. Dryad's saddle grows either as a single specimen or in small groups.

How to Pick It

Only the young, soft specimens of dryad's saddle hold culinary interest, and only the cap—which can be easily removed with a knife— is worth foraging. The stem is too tough to eat.
On the palate

Dryad's saddle tastes characteristically of watermelon. The flesh is thick and leathery, and may feel a bit irritating on the back of your tongue. Younger mushrooms have softer flesh.

Aroma

Dryad's saddle smells similar to cucumber and watermelon.
Preparation

Dryad's saddle should be cooked. The outer parts of the mushroom are the best to use. The inner parts, though tougher and more fibrous, can still be used to make a mushroom broth.

Uses

Dryad's saddle holds up quite well to heat, so you can let the mushroom take the starring role in a recipe. If you have a fresh, well-preserved specimen, you can try grilling the whole cap after brushing it with oil infused with herbs like heather, thyme, or marjoram. You can also slice the fresh parts into strips and fry them in butter to bring out their umami flavor. Dryad's saddle goes well with poultry.

Storage

Store in a cool, well-ventilated place for a week or two.

Substitutions

Can substitute hen of the woods or giant polypore.
Risk of misidentifying the plant
There are other polyporales, but none gets as large as Dryad's saddle, nor taste as good. The others, however, are safe to eat once they've been cooked.